This year's Pride month celebrations are well underway, so we have asked Rob Staines, travel expert, broadcaster, writer and self-confessed travel addict to join us to write a guest blog for the ATOL website outlining his thoughts and experiences of travelling in general, but particularly as a gay man.
Rob has clocked up hundreds of thousands of airmiles, visited over 70 countries (and counting!) and and is passionate about making travel easier, more accessible and far less confusing, so who better to ask about the travel industry and the LGBTQ+ community?
How is the market changing in terms of travel firms catering more for the LGBTQ+ community?
LGBTQ+ travel has come a long way in the last four decades. What was once an underground and niche offering operating largely in secret is now a booming sector, predicted to be worth over 200 billion dollars.
In the UK, we have a growing number of travel agents such as Sashaway Travel and Holiday With Pride, who specialise in LGBTQ+ travel experiences and holidays. Sites such as Air BnB also encourage hosts to state whether they are LGBTQ+ friendly.
Do you think the bigger travel companies are doing more to offer diversity and choice for gay people?
We've seen a rise in visibility and diversity in advertising campaigns across the sector, with some of our biggest holiday companies including Queer people in their marketing.
It always gives me a warm feeling in the pit of my stomach when I see a same sex couple holding hands walking on a beach in a TV ad, but these rare "blink and you miss it moments" and can feel a bit contrived or like a box ticking exercise rather than a genuine want to be inclusive.
The LGBTQ+ umbrella covers a vast array of demographics, with different needs and different experiences and I'd like to see all represented in advertising, marketing and, most importantly, services offered to consumers.
I'd also like to see more being done to represent and serve the trans community, who face significant challenges whilst travelling. I'd like the industry to get better at recognising that while we identify under the same acronym, we all have differing needs.
That said, it's definitely a step in the right direction and a sign that times are changing and that the global travel market is waking up to the spending power of LGBTQ+ groups.
What advice or tips do you have for LGBTQIA+ travellers – are there specific things they should research or look out for before they book?
It may come as a surprise to many that over 70 countries outlaw homosexuality. It's always best to do your own research first, especially if you are visiting a country that may have political or cultural views that don't align with your own.
The Foreign Office website has a dedicated section for LGBTQ+ travellers and general destination specific advice on cultural norms and laws. The ILGA World (International Lesbian, Gay, Bisexual, Trans and Intersex Association) has a destination map advising which countries and regions are best and which ones pose significant risk.
Follow online blogs and forums about LGBTQ+ travel (especially local ones) and use social media to hunt down LGBTQ+ friendly spaces like cafes, restaurants and bars – often the best places to meet new people and make new friends, and there are many LGBTQ+ travel bloggers out there.
Also, there is no harm in reaching out to a hotel/b&b and simply asking if they are welcoming and accepting. We're lucky that we now have a wealth of online information at our fingertips to help us to make informed decisions whilst keeping safe.
Do you think there is an issue with gay people visiting countries where same-sex couples are not as welcome as UK or even illegal – or would you see it as opening doors or pushing boundaries as a way of starting to change perceptions?
I think this is a very personal decision. I've been to many countries where homosexuality is illegal and even punishable by death sentence.
Over the years I've really had to learn how to be streetwise, but this isn't just relevant to me identifying as a gay man, it's security and safety in general.
As I get older, I become less tolerant of any sense that I am somehow different, that I must do all I can to blend in.
Dubai is just one example of a mainstream holiday destination that once you scratch the surface, is intolerant of many demographics. Do I feel unsafe there? No, it's just my thought process around feeding into an economy which doesn't accept me.
On the other hand, why should gay, lesbian, bisexual, trans people hide away and not discover the beauty of the world? Why should they not get to see the Pyramids of Giza, haggle in the bazaars of Morocco or experience the power of wildlife on a Kenyan safari? Why should we limit ourselves because of the views of certain countries?
My personal experience of travelling as a gay man has been largely welcoming, kind and fulfilling.
Travel is not just about seeing the world, it's also the connections we make with people, getting to know them, having conversations and discovering viewpoints – you might just be surprised at how open some people are to acceptance or challenging their perceptions!
Have you been to Pride events outside the UK and if so, what was your experience?
I'm lucky to have been to several Pride events around the world, including San Francisco, Madrid and Tel Aviv. Each has its own identity but with the same premise – to spread love, understanding and visibility.
My favourite Pride has to be New York. Pride in NYC is colossal and takes over each and every neighbourhood, where everyone lets their hair down and gets involved.
I always feel here that everyone is different, but everyone is the same – in that tolerance and understanding is what feeds the beating heart of this incredible and diverse city.
Pride is such a special event, and I would urge anyone to attend, no matter your age, background, who you love or how you identify – the point is everyone is welcome, and I promise you will never feel more happy, more accepted and more loved!
Is there anywhere you have been, where you felt unwelcome as a gay man?
I was once in Antigua at a hotel swimming pool where I was chatting to a guy who pecked me on the cheek when we parted ways.
At the time I was travelling as part of a group and the hotel manager approached one of my fellow travellers and instructed them to tell me to "cease my behaviour" because I was offending hotel staff. I remember feeling completely humiliated, embarrassed and extremely unwelcome.
I was much younger, but I couldn't believe how something so innocent could be so offensive. It made me question who I was and killed my confidence as a traveller for a long time.
If anything though, it made me more aware and I learned a lot from that experience – that not everyone is ok with me being me. Years have passed since then and there are plenty of places I've been to where I don't feel comfortable being outwardly gay.
Am I saying I hide in the closet? No. If you meet me, you'll know that's impossible! I just wouldn't walk down the street holding hands with my partner or ask a random person where the nearest gay bar is.
You have been to 70 countries, which have been your favourite and why? Where was the first country you visited?
This is the most common question I'm asked but also the hardest one to answer! I'll start off by saying there is nowhere I have truly disliked – everywhere has something to like, celebrate and enjoy and sometimes it's the simplest things that make me love a place.
One country I go back to time and time again is India. Interestingly, India hasn't the best reputation for LGBTQ+ rights and awareness, however it's a country I feel is on the cusp of making great progress. A lot of work is being done to increase awareness and acceptance of LGBTQ+ people.
A few years back I went to its first ever mainstream Queer nightclub, Kitty Su in New Delhi's Lalit Hotel, a chain genuinely championing diversity and inclusion. I was hesitant about the success of Kitty Su, after all they face great challenges, but it's taken India by storm and the club has expanded into cities like Mumbai and Chandigarh.
India itself is a country that will challenge your perceptions – it is all about extremes and a true attack on the senses. It's a place where I can enjoy the overwhelming hecticness of the cities and the calm serenity of the countryside and coast.
It's home to my favourite spot on this planet so far – the Golden Temple in Punjab, epicentre of the Sikh faith and a place so overwhelmingly spiritual it brings tears to my eyes.
I have had to work hard to love India – at times it's pushed me to my limits, challenged me as a traveller and a person, but it always embraces me with a unique warmth and charm. There truly is nowhere else like it!
Have you ever had an embarrassing mishap when you were abroad?
I was once at a nightclub in Kampala in Uganda. We were invited over to join a group of local party-goers for a drink at their table. After several drinks, it became clear one of the girls had her eye on me (obviously I was flattered!) but it got to a point where I really had to tell her she wasn't my type.
When I told her why, she erupted into raucous laughter, gave me a massive hug and asked if she'd like me to introduce me to her brother!!!
This shows that just because a country has a certain outward political stance on something, it isn't necessarily reflected throughout society.
I am not denying Uganda isn't a deeply homophobic country with atrocious human rights records, but in places like this it's best to get to know people as individuals, rather than assume the whole nation feels the same way. Just remember to stay safe by being cautious, alert and aware.
Do you have any advice for people who are booking holidays?
My advice is to book with a reputable provider you know and trust! Check online reviews, do your research and preferably book a package.
Gone are the days of package holidays being merely cheap and cheerful bucket and spade trips to the Med (although I love those too!) it can be something as simple as adding on car hire, a hotel or excursion.
ATOL protection gives you the best financial protection should your holiday company fall into hardship, but always check it's a genuine license by using the ATOL checker on the ATOL.org website.
And remember, the world is a wonderful place – you deserve to see it no matter who you are, who you love, or how you identify. Happy Pride month!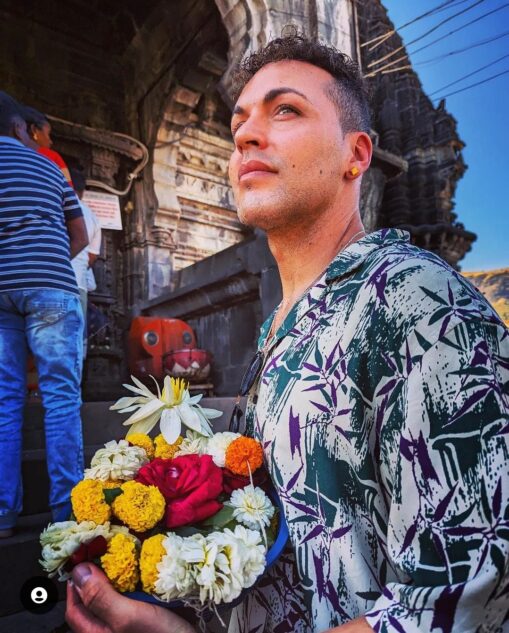 You can catch Rob's show on Travel Radio and also see what he is up to on social media (spoiler alert – he travels a lot!):
Instagram: rob_globetrotter
Twitter: @RobTravelExpert
YouTube: @RobGlobetrotter
---
View more news