As we celebrate the 50th anniversary of the ATOL financial protection scheme, we have been looking back at some of the events that have shaped the package travel industry since the first ATOLs were issued in 1973.
The first major test of the newly founded ATOL scheme was the collapse of Court Line in August 1974. At the time, Court Line was Britain's biggest package tour company and included big-name brands such as Clarksons Travel Group. The ATOL team and the Civil Aviation Authority were involved in the operation to help the many thousands of passengers impacted when the company suddenly folded.
We spoke to Jim Stanfield, who was caught up on a package holiday in Spain when Clarksons collapsed.
Jim is an aviation historian and enthusiast and is very active in the Air Yorkshire Aviation Society, where he is Hon. Secretary. The Society will be celebrating its sixtieth anniversary in 2024.
We asked Jim for his recollections of that memorable trip back in the summer of 1974.
Can you tell us where you went on this trip?
I was holidaying with my wife-to-be ahead of our marriage later that year. We were staying in the Hotel Terra Nova in Tossa de Mar on Spain's Costa Brava. It was my third package holiday – previously in 1971 I had travelled with Clarksons to Malgrat de Mar on the Costa Dorada, and in 1973 I stayed at the Hotel Castell de Mar in Cala Millor, Mallorca, on a Thomson package holiday.
How did you book the holiday and can you remember how much it cost?
The holiday was booked via Lewis's Travel Shop in Leeds. Originally, we were due to stay in a hotel in Cambrils near Salou, flying from Newcastle. A few weeks beforehand, the travel agent told us the holiday we booked was no longer available. We were offered three alternatives and chose the cheapest (around £30+pp for two weeks full board.) I had been on a day trip to Tossa two years earlier and knew it was a pleasant spot.
What are your memories of Clarksons, before it collapsed?
During early 1974 there was much in the press about Clarksons' financial situation. When we arrived in Barcelona in August 1974, there were very obvious signs of trouble, with reps telling many people that they were not going to the hotel they had booked. We were lucky – I remember one couple "camped" in the hotel reception area for two days awaiting suitable accommodation!
Where were you when you heard that Clarksons had gone out of business?
There was of course no internet, no room TVs, and no mobile phones – it was truly a break from UK news. We were walking back to the hotel having just landed from a boat trip to Playa d'Aro. We had been in Tossa about a week, and I wanted to know the cricket scores, so I bought an English tabloid newspaper. On the front page was a story about Court Line/Clarksons going out of business. We were stunned.
How did you feel at that point?
We were intrigued! We obviously wondered what this would mean for the rest of our holiday. Our Spanish rep in the hotel, a young guy named Manolo, arranged a meeting the following morning. He was keen that we should leave feeling good about Spain and want to come back there on holiday again! Manolo told us to relax, and that he would ensure that things went well. He delivered on his promise and in our remaining days we enjoyed a trouble-free holiday. We were treated well by the hotel and were not asked for any payment at all. It was as if the crash had not happened… And, on top of that, the weather was gorgeous!
We subsequently heard stories of tourists being thrown out of their hotels and having to pay additional charges. We were very fortunate to not have experienced any of that.
What did you do about returning to the UK?
We were told that the return journey would be as originally scheduled. The coach arrived as promised and we headed to Barcelona Airport, wondering what aeroplane or airline would carry us back to the UK.
We had initially flown out on a Court Line Tri-star, a wide body carrying around 400 passengers. At the time there were few wide-body planes in Europe, and it was peak holiday season, so who would have the requisite capacity available for the return?
Being well versed in aviation I could think of Freddie Laker who had two wide body DC-10s based at Gatwick. He had acquired them to break into the trans-Atlantic market with his low-fares Skytrain concept, undercutting the traditional airlines on that route. Laker didn't miss the opportunity to make some money by bringing Clarksons' customers home, so we flew back to the UK on a Laker DC-10 after leaving Barcelona in a thunderstorm, with lightning flashing outside the aircraft windows. A spectacular departure – but at least we were on the way back to "Blighty".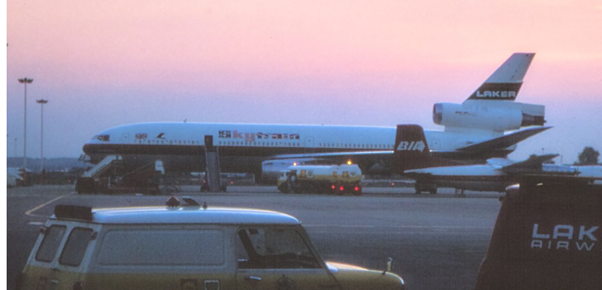 How did you get home, and how long did it take?
We had left the UK from Luton Airport but landed back at Gatwick. We were relieved that the journey back to the UK had been trouble-free, but there appeared to be no arrangement in place to transport us to Luton Airport. Gatwick to Luton was looking like the most challenging part of the journey.
We had driven from Leeds to Luton Airport, where my car had been parked for the 14 days. Our arrival at Gatwick seemed to be unexpected, so we were held airside until suitable customs facilities could be assembled. I recall a customs officer appearing while still donning his jacket, looking bewildered by the arrival of 400 weary holidaymakers.
There were no cafes open at the airport and we had last eaten a light lunch with a piece of fruitcake and a cuppa on the aeroplane. There were no mobile phones, so the competition to use the few pay phones in the Terminal was intense. Queues for taxis started to grow. Suddenly a guy appeared and stood on a chair to address us – he had two coaches available to take us to Luton. Everyone reacted by raising their hands, holding whatever cash they were willing to spend up in the air!
It was expensive, but we paid up and boarded one of the coaches, arriving well after midnight. To get us back to Leeds we needed some food and some fuel for the car. Luckily my brother lived in Stevenage, so at around 2 a.m. we woke him and raided his fridge for bacon and eggs. Afterwards, we directed us to a 24-hour garage, and we began the drive back to Leeds.
As dawn broke, we were reaching West Yorkshire, singing to keep ourselves awake. When we got back, it was between 6 and 7am. We had left Tossa in the early afternoon, and been on-the-go for just short of 24 hours, but, finally, we were home and able to get some sleep.
How do you feel about it now, looking back?
At the time people were amazed by our story. Our families were relieved, because they knew little of the detail and had heard only the mainly bad stories appearing in the press. We have enjoyed telling the story, looking back from our advanced years and wondering how we had the energy to see it through. I know we would struggle do it now, but in your twenties you have boundless energy!
Since then, we have on occasion wondered what happened to the rep, Manolo, who treated us so well through what could have been a tricky time. However, we did as he asked – we did not let the experience stop us from coming back to Spain. In fact, the following year we holidayed in Ibiza with Monarch on a Dan Air Comet. The only incident that happened then was me losing my wallet between Manchester Airport and the coach park at Ibiza Airport.
We have repaid the kindness we were given by our hosts by subsequently holidaying many, many more times in various parts of Spain, but in the end, we're glad that we were able to get home to retell the tale over the years.
---
View more news